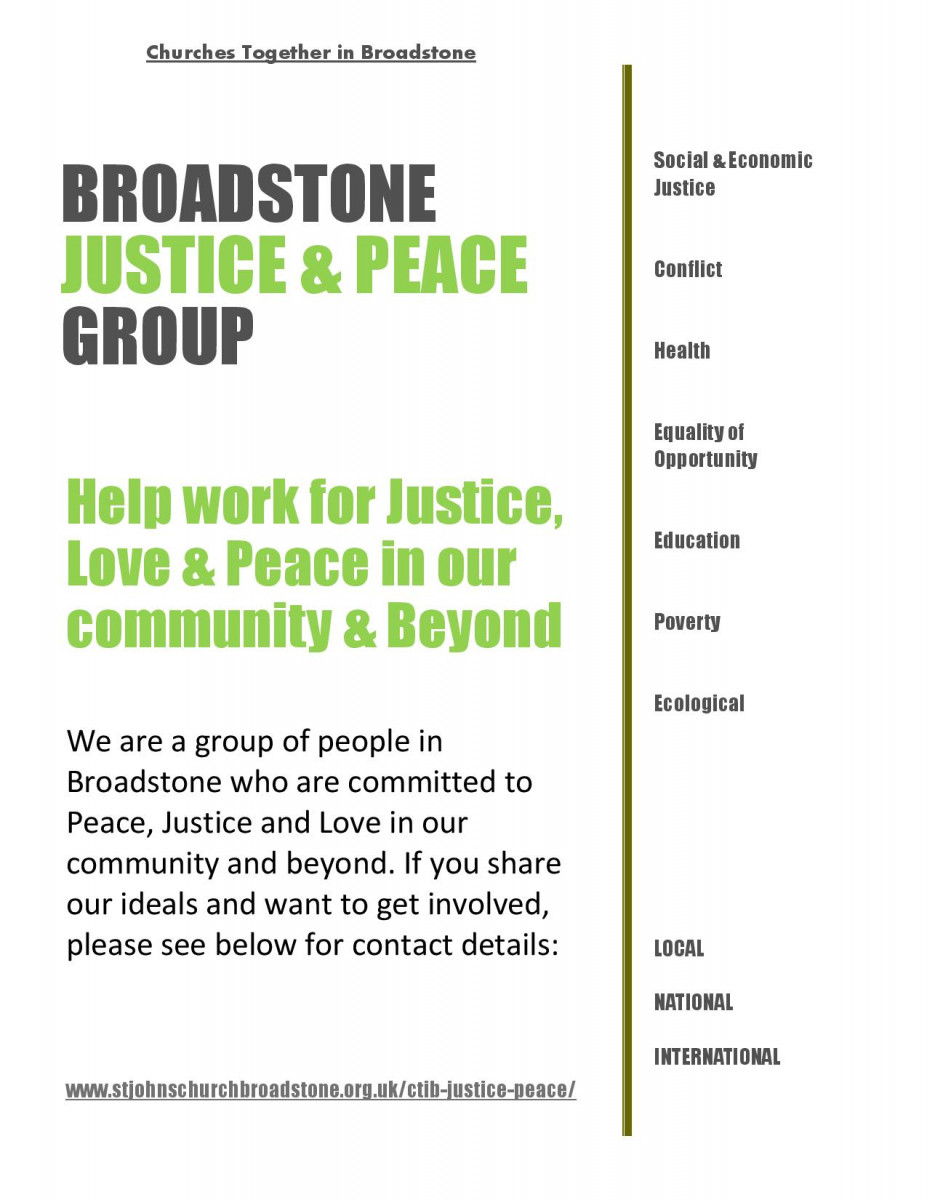 Our Mission Statement
The Peace and Justice Group is the commitment of Churches Together in Broadstone working together to serve God's purposes of Justice, Love and Peace in the local community and beyond. Our focus will include ending poverty, equality of opportunity, and ecological issues.
Vision
We aim to achieve our mission through 'Prayer, Action and Campaigning'. In our work we will be mindful of the 17 United Nations' Sustainable Development Goals. We will:
continually research and share information on peace and justice issues (social and economic justice; ethnic, racial, religious, and cultural conflict; community health and education),

raise awareness throughout Broadstone churches via church representatives,

create focus groups to act on some local concerns and support existing local initiatives,

campaign on relevant local, national, and international issues as agreed by the Group – petition, lobby, etc.
A Call to Action!
In October, at the Broadstone Musical Market, 124 members of the public were asked to rate their three main concerns from a list of fifteen.
The survey had limitations but enabled members of the Justice and Peace Group to engage with the local community on a range of issues. The results of the survey show concern about climate change, local environment, mental health, homelessness, the challenges facing people on low incomes. There are issues which did not feature so strongly in the results which the group feels need to be championed, for example, the plight of refugees.
Immediate action that the group is proposing is to encourage the Broadstone community to increase contributions to Poole Food Bank.
On 16th January, Café Church held at the Methodist Church focused on the subject of Justice and Peace with contributions from members of the clergy from churches in Broadstone and in February, it is planned to hold a Justice Month during which there will be a short presentation at each of the four member churches during a Sunday service.
The members of the Justice and Peace Group committee include representatives from St John's, St Anthony's and Broadstone URC as well as Broadstone Methodist. Please do let any of us know if you feel that there are issues of concern which the group should consider. We hope to to make representations on issues to government, Members of Parliament and relevant authorities.
Please do get in touch with your representatives to discuss any views you have on any particular matters or if you would like to get involved further. The more that members of each of our congregations express their opinions on matters of concern , the more likely the group will have an effective voice. See contacts list at the bottom of this page.
Would you like to know more about the National Justice and Peace Network (NJPN)? Visit their website at www.justice-and-peace.org.uk